Introduction
Indonesia is home to some of the leading steel grating manufacturers in the world. With their commitment to quality and ability to provide customized solutions, these manufacturers have become an integral part of the country's economy.
From top-of-the-line engineering designs to innovative manufacturing processes, these manufacturers have consistently provided a wide range of high-performance steel grating products for industries across multiple sectors in Indonesia.
From lightweight steel grating systems that are perfect for residential projects to heavy-duty fabricated solutions that can be used in high-traffic areas, these companies offer a variety of specialized products that meet international standards.
This guide will look at the top 10 steel grating manufacturers in Indonesia.
1. Webforge
Website: https://www.webforge.co.id/
Type of Business: Specialist manufacturer of metal grating for flooring and allied products
Location (Headquarters): Melbourne, Victoria
Year Established: 1950
Introduction
Webforge Group is a 70-year-old global leader in manufacturing metal grating and related products. With operations in 10 countries and nearly 1000 employees, the company has the resources and experience to service a full range of projects.
Webforge focuses on producing grating and handrails for access systems, civil products, safety barrier systems, and highway safety barrier systems. The construction industry can rely on Webforge's cutting-edge technology to ensure that load-bearing requirements are met under national and international standards.
The products manufactured by Webforge are designed to be high-performance yet cost-effective – meeting required specifications for strength against flexing loads generated by weights or traffic forces – while also delivering superior corrosion resistance and slip resistance capabilities.
Webforge is committed to continuous improvement through technological innovation, investing heavily in research and development initiatives to introduce new materials or improve manufacturing processes that lead to improved quality outcomes. This commitment is shared by its staff, who regularly attend training courses to stay ahead of industry trends and challenges.
Products & Services Offered by Webforge
Steel Grating
Aluminium Grating
FRP Grating
Monowills Handrail
Civil Drainage
Highway Barrier
Main Markets
Asia, India, Indonesia, Malaysia, New Zeland, Philippines, Singapore, Thailand, Viet Nam, China, Australia
2. PT. MULIA BERSAUDARA
Website: https://mb-grating.com/
Type of Business: Wholesale Building Materials
Location (Headquarters): Bekasi, Jawa Barat
Year Established: 2009
Introduction
PT. Mulia Bersaudara is a leading manufacturing company based in Indonesia, producing high-quality products for industrial and commercial use. Founded in 2009, the company has since established itself as an industry leader with innovative production techniques and rigorous quality standards.
The company's core mission is to provide superior products that are reliable, safe, and easy to use while still maintaining high standards of affordability and environmental sustainability.
To ensure the highest level of customer satisfaction, PT. Mulia Bersaudara employs advanced technology and the latest manufacturing equipment to produce superior-quality products at factory-direct prices without compromising quality or performance. Additionally, they have implemented stringent safety measures throughout their operation, from research and development through inspections prior to shipment.
Products manufactured by PT. Mulia Bersaudara includes various items such as instruments for measuring time and temperature; analytical scales. The company also offers custom design services for clients who wish to tailor their product selection according to specific needs or specifications.
Products & Services Offered by PT. MULIA BERSAUDARA
Flooring
Stair Tread
Drain Cover
Main Markets
Indonesia, China, the USA and European countries
3. Sunj Grating Limited
Website: https://chinagratings.com/
Type of Business: Steel Gratings Manufacturer
Location (Headquarters): Jiangsu, China
Year Established: 2007
Introduction
Sunj Grating Limited is a professional steel gratings manufacturer in operation for more than 15 years. Established to provide high-quality and durable products, we have always emphasized providing superior strength, bearing capacity, and resistance to stress.
Our production lines are designed to ensure our clients' needs are met for years. Our anti-corrosion and anti-rust materials guarantee consistent performance over time. We take great pride in producing excellent steel gratings that meet or exceed industry standards and serve as a long-term solution for clients' projects.
We also prioritize delivering orders on time and ensuring customer satisfaction through stringent quality control processes. To this end, we have invested in four production lines that enable us to provide quality products quickly and efficiently.
Apart from manufacturing steel gratings, we also offer additional services such as custom design, installation, and maintenance of steel grates. This helps customers save time and effort while still getting the product they need at an affordable price. At Sunj Grating Limited, we strive to be the go-to provider of superior-quality steel gratings so that your projects can last longer without any issues. We believe in providing durable solutions for a better future.
Products & Services Offered by Sunj Grating Limited
Steel Gratings
Stainless Steel Grating
Stair Gratings
Standard Steel Grating
Heavy Duty Steel Grating
Main Markets
Malaysia, USA and European countries
4. Allugrip Indonesia
Website: https://allugrip.weebly.com/
Type of Business: Anti Slip grating expert
Location (Headquarters): Banten, Indonesia
Introduction
Allugrip Indonesia is a trusted manufacturer of anti-slip and slip-proof protection products for floors and stairs. Their products are designed to keep workers safe and reduce the risk of accidents in the workplace, at home, or anywhere else.
They have been manufacturing these products for over 15 years, providing customers with a comprehensive selection of options for their safety needs. At Allugrip Indonesia, they understand that workplace safety is a top priority and that no one should ever be forced to endure the dangers of slipping on an uneven surface.
That is why we use only the highest quality materials, ensuring that their products adhere to all necessary standards and regulations as required by law. They also take great pride in our team of experts with years of experience designing and creating slip-resistant materials that meet all safety requirements.
They strive to provide world-class customer service with each product we make, offering extensive warranties as well as free consultations with their design team so that you can get the best results for your project. With the help of their partners and suppliers, they can offer competitive prices on all of the products while still providing superior quality and durability.
Products & Services Offered by Allugrip Indonesia
Steel Grating
Bordes Flooring
Platforms
Access Systems
Main Markets
Indonesia
5. Steel Grating Indonesia
Website: https://steelgrating.business.site/
Type of Business: Steel grating supplier and fabrication
Location (Headquarters): Bekasi, Indonesia
Year Established: 2010
Introduction
Steel Grating Indonesia is an Indonesian company engaged in manufacturing and selling steel gratings for various purposes. The company has been in operation since 2010 and has built a strong reputation for producing high-quality steel gratings that are both durable and reliable.
Steel Grating Indonesia is dedicated to providing customers with excellent products while ensuring they receive prompt, friendly customer service and support. The company specializes in manufacturing steel gratings designed to meet specific customer requirements, including those used for walkways and stair treads, industrial platforms, decks, grates, drainage systems, sunscreens, and other purposes.
All their products are made of premium materials tested rigorously to ensure their strength and durability. Steel Grating Indonesia offers a range of custom designs, too, so customers can get exactly what they need to suit their specifications.
In addition to offering quality products and services, Steel Grating Indonesia also takes proactive steps to ensure the safety of their workers during production and provide up-to-date training on all new technologies that may be used in the manufacturing process.
Products & Services Offered by Steel Grating Indonesia
Galvanized Steel Grating
Steel Grating
Steel Grating type serrated
Main Markets
Indonesia
6. PT. Karlita Emas
Website: https://www.karlitaemas.com/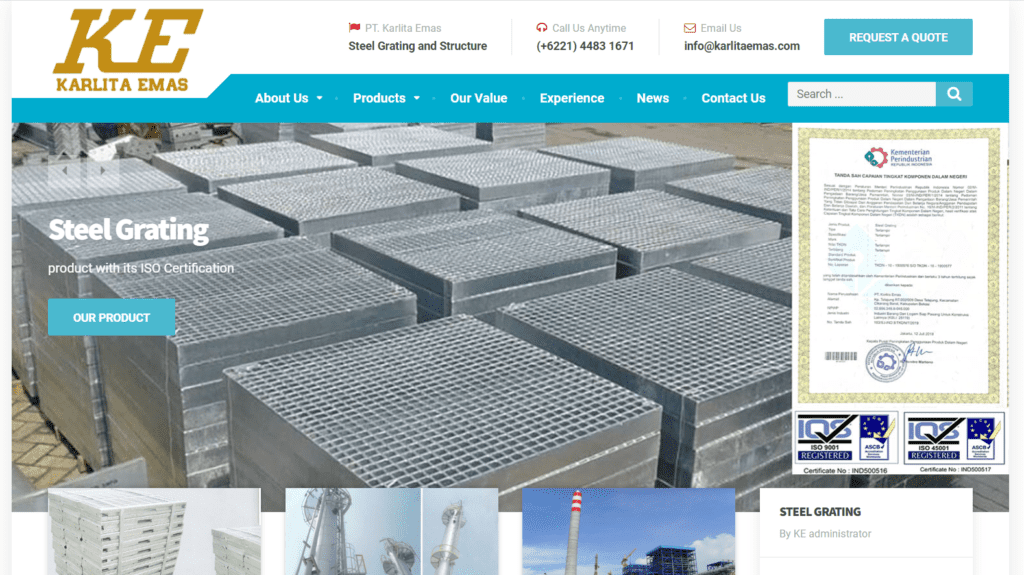 Type of Business: Steel Grating and Structure Manufacturer
Location (Headquarters): Jakarta Utara, Indonesia
Year Established: 2003
Introduction
PT. Karlita Emas is an Indonesian manufacturing company established in August 2003, with its name changing to PT. Karlita Emas in July 2007. It is a hallmark of trustworthiness and quality, offering customers products and services with the highest level of standard at competitive prices, technical back-up from its engineers included
The company's core philosophies are to provide customers with friendly service, offer high-quality products at competitive prices, value each individual, and foster cooperation amongst employees for better results; all these aim to attain excellence in every way possible.
At PT. Karlita Emas, the motto is "Nothing is impossible,"; reflecting their determination to make any kind of steel grating or structure that their clients need and require – no matter how difficult it may seem – by using cutting-edge technology and advanced methods in fabrication engineering.
In addition, they also strive to innovate new solutions that add extra value within the framework of safety regulations to improve productivity levels for their customers cost-effectively without compromising on quality assurance standards.
Products & Services Offered by PT. Karlita Emas
Steel Grating
Steel Structure
Main Market
Indonesia
7. TRIO JAYA STEEL
Website: http://www.tjsteel.co.id/
Type of Business: Wholesale Building Materials
Location (Headquarters): Tangerang, Jawa Barat
Year Established: 2014
Introduction
Trio Jaya Steel (TJ Steel) is Indonesia's leading manufacturer of perforated and expanded metal products. The company operates more than 15 machines to produce a wide range of customized and standard products, including sheets, panels, grilles, screens, coils, and frames.
All these machines are supported by their tool-making machines, grinding and boring machines, and cutting, bending, and rolling facilities. TJ Steel meets the needs of industrial processing, food processing, building and interiors, automotive industries, household appliances, and multimedia communications.
With the use of modern production techniques such as laser cutting and punching processes for the highest accuracy in round or rectangular patterns, their products offer superior performance characteristics such as a high strength-to-weight ratio and aesthetic appeal.
Their product range includes multiple opening styles such as round, square, and hexagonal/diamond shapes with various thicknesses and custom designs according to customer requirements.
Products & Services Offered by TRIO JAYA STEEL
Perforated Metal
Expanded Metal
Ceilings
Wall / Partition / Decorative Panel
Facade
Main Markets
Indonesia
8. Royce Grating Limited
Website: https://www.beststeelgratings.com/
Type of Business: Manufacturing & Supplying Steel Gratings
Location (Headquarters): Wuxi, Jiangsu, China
Year Established: 1995
Introduction
Royce Grating Limited is a professional manufacturer of tailor-made steel gratings and related products in Wuxi, China. For over 24 years, the company has been supplying high-quality products to customers worldwide. With its advanced manufacturing machines, rich experience, sophisticated skills, and scientific management system, Royce Grating Limited is one of the most trusted suppliers in the industry.
The company occupies an area of 25,000 square meters and a building area of 18,000 square meters. The comprehensive logistics and supply chain system of Royce Grating Limited enables them to easily export all types of steel gratings to any country across the globe.
The range of products includes stair treads, handrail standards, storm drains, and more suitable for various applications such as engineering construction works and industrial usages. Royce Grating Limited continually invests in its research and development activities to maintain its market reputation as a reliable supplier of quality steel grating products.
Their team of highly skilled professionals ensures that their fabrication produces durable products with a high tensile strength that can withstand even the harshest environmental conditions. The company also employs strict quality control measures at all stages, from raw material procurement to product delivery, to ensure customer satisfaction.
Products & Services Offered by Royce Grating Limited
Steel gratings
Galvanized steel grating
Stair Gratings
Welded steel gratings
Press-locked Steel Grating
Main Markets
Malaysia, USA and European countries
9. PT Multi Colour Indah Indonesia (MULCINDO)
Website: http://www.mulcindo.com/index.php?mn=1
Type of Business: Maintenance of Steel Construction in Infrastructure projects
Location (Headquarters): Kebomas Gresik
Year Established: 1980
Introduction
MULCINDO is one of the pioneers in value-added industries in Indonesia. With 42 years of experience behind them, they continuously develop new solutions for their customers and strive to contribute towards advancing the steel industry throughout Indonesia.
The company's commitment to innovation has resulted in various products tailored for each construction project, from light steel structures to pre-engineered buildings and components for architectural projects.
In addition to its innovative products, MULCINDO takes pride in its customer service. Their team comprises experienced professionals qualified to provide complete service from design to installation for any structure or building project.
They also have dedicated technical support staff who can assist with product applications and provide guidance on installation techniques. At MULCINDO, safety is always a top priority. Their continuous effort in safety management includes training and regular inspections of all premises and equipment by certified safety officers to ensure that all operations are conducted according to regulations and standards set by local authorities.
Furthermore, their commitment to environmental protection is reflected through responsible manufacturing practices such as waste reduction and reuse whenever possible.
Products & Services Offered by PT Multi Colour Indah Indonesia (MULCINDO)
Poles
Mild steel frame
Roofing
Floor deck
Welded Beams
Gratings
Guardrail
Main Markets
Malaysia, Indonesia
10. Sutindo Raya Mulia (SRM)
Website: https://sutindorayamulia.com/
Type of Business: Wholesale Import and Export
Location (Headquarters): Surabaya, East Java
Year Established: 2017
Introduction
The company offers an extensive range of stainless steel products from domestic and international mills. These products meet or exceed ASME, ASTM, JIS, and DIN / ISO standards for quality and reliability. In addition to standard grades of stainless steel, SRM also provides exceptional product grades with technical support capabilities such as custom sizing and material selection.
SRM's commitment to excellence is reflected in its customer service model, designed to provide timely solutions for customers who require assistance with their product selections or information about specific materials for their applications. The company employs a knowledgeable team of sales representatives who can guide customers through the selection process and answer any questions.
At SRM, the company puts health and safety at the forefront by adhering strictly to all applicable regulations regarding manufacturing processes and storage conditions. This ensures that all products sold meet health and safety standards while giving customers peace of mind that they are making a responsible choice when selecting materials from SRM.
Products & Services Offered by Sutindo Raya Mulia (SRM)
Flat Product
Stainless steel bars
Industrial Pipe
Steel Grating
Main Markets
Jakarta, Semarang, Balikpapan, and Samarinda
Conclusion
In conclusion, steel grating is an essential material with many applications in various industries. Indonesia is one of the world's leading manufacturers of steel gratings, with some of the top 10 steel grating manufacturers located in this Southeast Asian nation.
Those companies have been producing quality products for decades and have a wealth of experience to draw from in product design and production. The country's excellent infrastructure, access to raw materials, and skilled labor make it possible for these Indonesian manufacturers to produce some of the best steel gratings available on the global market.
Indonesia is also well known for its strict adherence to international standards regarding manufacturing processes, making its products even more valuable. As such, these top 10 steel grating manufacturers in Indonesia should be strongly considered when deciding what materials are needed for any given project or application.