When choosing stainless steel gratings for your needs, there are many factors to ponder.
The material you need will depend on the application, the corrosive environment, the product's expected life, and the aesthetic requirements.
This blog will overview each of these topics to help you make an enlightened decision!
How to Choose Stainless Steel Gratings for Your Needs?
First, you need to consider the environment where the gratings will be used – indoor and outdoor settings can impact the type of grating required.
Secondly, evaluate the load capacity and the weight the gratings need to support.
Finally, choose the right grating finish, whether corrosion-resistant, slip-resistant, or both.
Apart from the factors mentioned above, there are numerous others that you need to ponder upon while choosing the stainless steel grating for your application.
Keep on reading to explore!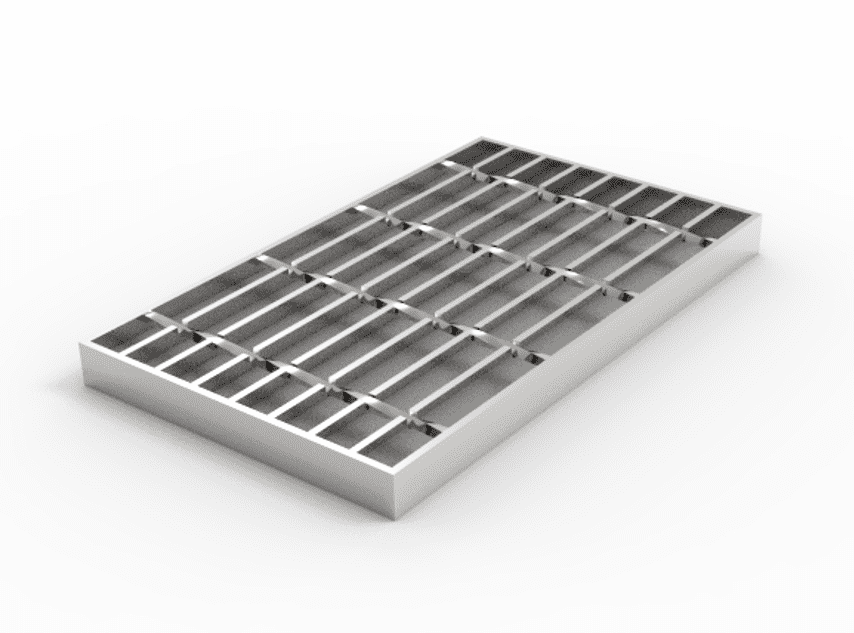 Stainless steel gratings are a type of mesh screen used in various industries for decades.
They feature a durable stainless steel mesh that can be easily cleaned and reused, making them highly cost-effective and sustainable.
They are also corrosion resistant, slip resistant, robust, long-lasting, and aesthetically pleasing.
This mesh is created by a bearing bar running in one direction while a crossbar runs perpendicular to it.
However, the grid design can be changed to achieve desired function, strength, load-bearing capacity, and aesthetic appearance.
The stainless steel gratings are available in different types, depending on their sizes, production method, material, strength, aesthetic appearance, and finishing, making them a versatile product for a wide array of applications.
These steel gratings are typically used in industrial settings, where they are installed on pipes, trenches, and other equipment as part of a safety system to prevent contamination from entering or leaving a space.
It can also protect workers from falling objects on construction sites.
They can also be found in many residential applications, such as windows or shower doors.
They allow sunlight and air yet offer excellent security. Besides, they also enable easy cleaning and maintenance without compromising the grating material's integrity.
Moreover, these grating can also be used for commercial applications and public places with high traffic, such as stair treads, ceilings, fences, bridges, walkways, trench covers, parking lots, etc.
The benefits of using stainless steel gratings:
Stainless steel gratings have several advantages over their non-stainless steel counterparts. These include:
· Easy to clean:
This means that you won't have to worry about wearing away at your grating with repeated scrubbing, which can cause problems in the long run.
· Corrosion Resistant and Long Lasting: 
Stainless Steel gratings are more durable than their non-stainless steel counterparts, meaning they will last longer and not corrode or rust.
Moreover, they are more durable than other grates, so you don't have to worry about replacing them often.
If you do need a replacement, however, there are many options available that are attractive and sturdy enough for any application.
· Affordable: 
Stainless steel gratings are less expensive than other materials, making them an ideal choice if you are on a tight budget.
· Versatile:
Stainless steel grating can be designed in different shapes and can be altered to achieve other functions, aesthetic appearance, strength, corrosion, heat and chemical resistances, and load bearing capacities, making them versatile and usable for various residential, commercial, and industrial applications.
· Besides, they are also easy to install, clean, and maintain and abundantly available in the market to buy!
The different types of stainless steel gratings:
The stainless steel gratings can be classified into different types depending on the production method and material.
Some of the notable stainless steel grating types are as under:
Stainless steel types depending on production method:
· Welded Stainless Steel Grating: It is a grate made by welding together several pieces of stainless steel metal bars to form a grid, rather than being forged in one piece.
It's usually used for applications where excellent load-bearing capacity, high strength, and durability are required, like on floors, stair treads, and fences.  
· Press-Locked Stainless Steel Grating: Press-locked stainless steel grating is a grate that has been pressed to form a shape. Here, the flat steel is usually used to create a bearing bar and cross bar that are pressed on each other perpendicularly to form a grid.
It can be used in applications where stability and aesthetically pleasing appearance is required, like stair treads, platforms, trench covers, fences, etc.
Stainless steel types depending on material:
· 316 Stainless Steel Grating: This type of stainless steel grating has high heat resistance, corrosion resistance, and pitting resistance.
· 304 Stainless Steel Grating: Compared to 316 Stainless Steel grating, this grating has lower corrosion, heat, and pitting resistance but high tensile strength.
Both 304 and 316 Stainless Steel gratings are mainly used for industrial applications in humid environments with heavy chemical concentrations like paper processing, textile equipment, and petroleum refining.
Besides, they can also be used for residential and commercial applications in places with high humidity.
How to choose the best stainless steel gratings for your needs:
When it comes to choosing stainless welded steel bar grating for your needs, there are several factors you will want to consider.
1. Determine your application:
First, you need to know how you want to use these welded steel bar grating.
Do you want to use it for fencing, flooring, ceiling, or other purposes? Is appearance necessary?
How much traffic is expected to use the welded steel grating?
What are the environmental conditions? What durability and strength do you require? And much more.
2. Choose the type of Stainless Steel Bar Grating:
Your applicationwill help you decide what type of stainless steel bar grating is best for you.
3. Choose the suitable mesh size of the grating:
Stainless steel bar grating is usuallyin a standard size of 33 mm × 33 mm and 34 mm × 38 mm.
However, this size and shape can be customized according to the required load bearing capacity, application, and client's requirement.
4. Select the suitable surface treatment:
Stainless steel bar grating can have different surfaces and finishes.
The surface treatments, including serrated surface and grit surface, are done to enhance slip resistance.
While surface finishing, such as mill finishing, matte finishing, etc., is used to improve appearance and corrosion resistance.
5. Choose the right grating pitch:
You can choose the right bar grating pitch size per required weight carrying capacity.
Large pitches have a lower weight bearing capacity, while small pitches have a high weight bearing capacity.
If you are still unclear about picking the suitable stainless galvanized steel bar grating for your application, contact us at ChinaGratings.com.
We have all the right expertise, team, and equipment to suggest and provide you with the best bar grating for your need.
Where to buy stainless steel gratings and how much they cost:
There is numerous stainless welded steel gratings manufacturer worldwide, but we suggest you prefer ChinaGratings.com.
They have over 16 years of experience, advanced machinery, and well-trained staff to produce the highest-quality stainless steel grating for your application.
Stainless welded steel gratings cost varies depending on size, material, type, and quality.
For the latest quotation, you can reach us at ChinaGratings.com.
Installation tips for stainless steel gratings:
Here are some tips for installing stainless welded hot dip galvanized steel gratings gratings:
· Use a level to ensure that your welded steel gratings is perfectly balanced when you install them.
· Once you've installed your welded steel gratings, ensure not to abuse them by scratching them with sharp objects or banging them hard enough to damage them over time.
· Clean the grating with a mild soap and water solution. Dry thoroughly before use.
· Do not allow the welded steel gratings (intended for indoor use) to become exposed to direct sunlight for long periods, as this could cause discoloration due to oxidation of the metal surface over time.
· Make sure the welded steel gratings is clean and free of debris.
· Use a lubricant on the stainless welded steel gratings to prevent it from getting stuck to the surface below it, which can cause damage to both materials if you're not careful.
· Regularly inspect the stainless welded steel gratings for damage, crack, or corrosion. If you find any, get it fixed by trained professionals.
· Regularly check the welded joints and bolts to see if they are intact. For loose bolts, tighten them properly, and for cracked welded joints, get them fixed by trained professionals.
Final Words,
Stainless steel gratings are a great addition to any home, office, or commercial, industrial, and public space, and they can be used for various purposes.
They are long-lasting, appealing, durable, and can withstand heavy loads. They are also excellent for high-volume flow rates and/or high-pressure applications.
They are easy to install, clean, maintain, replace, and repair. They are also very cost-effective when compared to traditional gratings.
When looking for the perfect stainless steel grate for your needs, there are several things to remember.
Firstly, you should ponder on the size of your grate. You should also consider the material you want your grate to be made out of.
It may also be helpful to refer to reliable stainless steel grating manufacturers like ChinaGratings.com to determine whether certain features will fit into your space.
ChinaGratings has served its respected customers with high-quality Stainless Steel gratings since 2006. So, they have all the needed solutions for your grating needs.