Steel grating is a highly durable and cost-effective fence system. It can be installed in any landscape, including commercial or residential areas.
The steel grating will protect your home or business from almost any type of theft or vandalism.
What are Steel Grating Fences?
Steel grating fences are a type of fences that are welded to a galvanized pipe frame which provides a framework for the grating panels.
The grating panels are usually made from high-quality steel slabs with an aluminum face or mesh facing.
The top surface of the grating can be painted with anti-rust paint to prevent rusting over time.
Did You Know? Steel Grating Fences can be used for a wide array of home, commercial and industrial applications. Keep on reading to know how they can be helpful to you!
What are steel grating fences, and what are they used for?
A steel grating fence is a type of fencing made from steel bars welded together to form a grid.
It has baring bars running in one direction and cross bars running perpendicular to them.
These fences are highly resistant to corrosion, durable, long-lasting, and aesthetically appealing.
Besides, its lattice structure allows wind and sunlight to pass, making it ideal for various purposes.
These steel structures are designed to provide a secure barrier and can be installed for outdoor purposes, such as staircase railing infill panels, bridge fences, and building fences.
They protect pedestrians from animals, falling objects, or burglars.
Steel grating fences are available in different styles, sizes, and shapes, as per your application needs.
They come in standard sizes suitable for most applications, but you may also want one custom-made for your situation.
Steel grating fences are typically made from galvanized or stainless steel, but other options are also available.
How to select the right steel grating fence?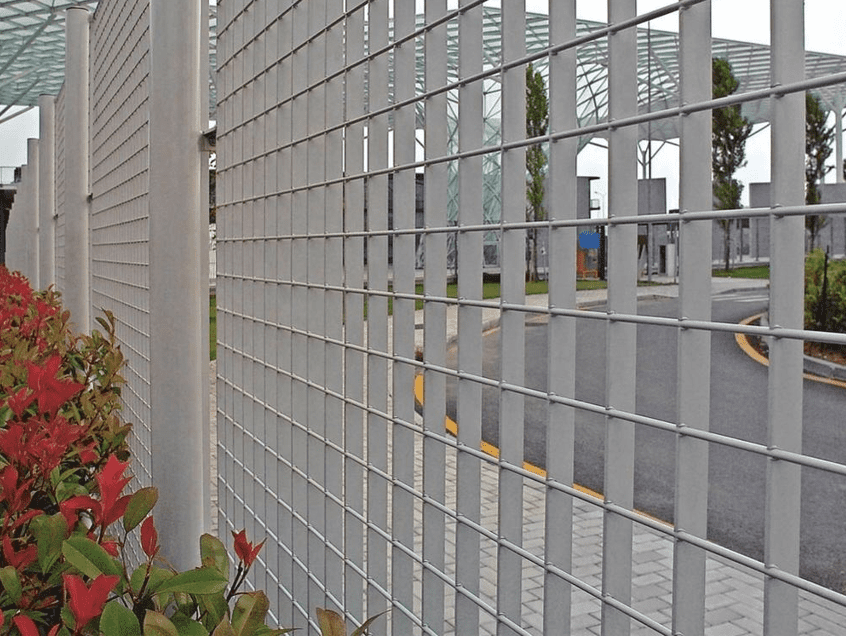 When choosing a steel grating fence, it's essential to consider the things under:
Material: Steel grating fences can be made of steel, stainless steel, or aluminum. They are also available in different material finishes. Choose one made from stainless steel or aluminum if you want a rust-resistant, long-lasting fence. However, if you want a more appealing, fancy and decorative fence, go with steel.
Durability and Usage: Consider how long you want your fence to last. Some fences are made for short-term use only, while others can be used for many years without requiring any maintenance. If you have an area where people will be using the fence regularly over a more extended period, then it might be better suited for a more durable option like stainless steel or carbon steel panels instead of paintable ones like fiberglass or plastic.
Types: Steel grating fences come in all shapes and sizes, but these are two main types: solid steel and chain link. Solid steel grating fences are more expensive, but more durable and long-lasting. Chain link fences are less expensive but prone to rust and will not hold up well over time.
Consider cost: Plastic and fiberglass grates are usually cheaper than steel ones, but they won't last as long or be as attractive. On the other hand, carbon steel or stainless steel grates are more expensive but may be more durable and easier to maintain over time.
What are notable tips of installing a steel grating fence?
Here are a few significant tips for installing steel grating fences:
Steel grating fence is more durable than traditional grating so that it can withstand a wide range of weather conditions.
They will not rot or deteriorate over time, so your fence will stay in excellent condition for years.
Steel grating fence is more aesthetically pleasing than traditional grating—it looks great on your property. It provides a uniform look that matches everything else you have going on in your yard!
The metal material used for steel grating is non-toxic, so it's safe for kids and pets to play near it!
The steel grating also allows for more light penetration and air to flow, which means it can be used in homes, offices, or other commercial and industrial uses for a well-ventilated and lighted environment.
They can be used to create a barrier between areas of your property that don't have enough room for traditional fencing (like the driveway), as a privacy fence around your yard, or to secure an entryway or pathway that needs more security than traditional fencing can provide.
A steel Grating Fence is easy to clean and requires very low maintenance. Besides, it offers long service life.
They are available in countless styles, designs and colors to match your aesthetic needs.
What are the tips for installing a steel grating fence?
We recommend that you begin by checking your local building codes and zoning ordinances before installing a steel grating fence.
If you live in a city, you'll want to ensure that the fence complies with local regulations.
If you are installing a steel grating fence yourself, we suggest following steps under:
Prepare the fencing area, level it, and remove debris or hindrance.
Measure the fencing area before installing the fencing.
Make sure there is enough space around the base of your fence to be adequately secured without being damaged by other objects or oncoming traffic.
Install the posts at least eight inches apart (or 12 inches for higher-quality fences).
Use galvanized screws or nails when installing steel grating fences so that they do not rust over time or break through the material's surface.
Use a level when placing stakes into the ground and installing any part of your fence—this will ensure that everything is perfectly straight and level before continuing with installation!
Hiring trained professionals to install steel grating fencing is highly recommended, primarily if used for security purposes.
How to maintain Steel Grating Fence?
The tips for maintaining a steel grating fence are:
Examine the fence regularly for wear and tear, especially in areas with heavy traffic or animals. Besides, inspect the welding cracks for welded grating. For bolted grating fence, ensure the bolts are tightened.
Use the damp cloth for regular cleaning. You can clean tough stains with a hose with pressure but keep the water away from the wire mesh (if it is there!). Never use bleach, ammonia, or other harsh chemicals on it.
Use a soft brush to remove dirt and debris from the fence.
Apply a coat of paint to protect the fence from corrosion and rusting.
FAQs about steel grating fences
Q: What are the main types of steel grating fences?
A: There are various types of steel grating fences. The following two are the most popular:
Press-locked grating is made by pressing steel bars into a mold to create the grid. It's the most common type of grating, and it's usually used for commercial applications where durability is key.
Welded steel grating is made by welding metal plates together. This creates a strong building material that lasts longer than press-locked grating, but it can be more expensive because it requires more labor time to assemble.
Q: Which One is better among Welded Steel Grating Fence and Press-Locked Steel Grating Fence?
A: Both steel grating fence types have advantages and disadvantages. The Welded Steel grating fence is more durable, affordable, and practical.
In contrast, the press-locked steel grating fence is more appealing and resistant to corrosion but comparatively expensive.
Q: What is the maximum size for press locked steel grating fence?
A: The maximum size for a press-locked steel grating fence is as follows:
Size: 2500 mm x 2200 mm (Bearing Bar Length x Crossing Bar Length)
The corresponding Standard Mesh Size: 34 mm x 33 mm
Q: What exactly are the length and width of steel grating fences?
A: In Steel Grating Fence, the width refers to the crossing bar's length, and the length refers to the bearing bar's length.
Q: What is the price of the steel grating fence?
A: The price of a steel grating fence depends on various factors, including size, length, material, grating type, finishing, and shape. For the latest quotes for steel grating fences, please send us your requirement at ChinaGratings.com.
Q: What type of materials are available for the Steel grating Fence?
A: Steel Grating fences are usually made from Low carbon steel, aluminum, and stainless steel.
Q: What surface treatment can be applied to a steel grating fence?
A: Clients can choose between Galvanized treatment and powder coating.
Final Words,
Steel grating fences are an excellent choice for security and privacy. They offer the best of both worlds, with the strength and durability of metal, as well as the flexibility of wood.
Steel grating fencing is often used in industrial settings with a high risk of theft or vandalism. It's also popular among farmers who need to keep livestock from escaping their pens.
Depending on your needs, these fences can be installed on concrete, wood, and metal surfaces.
They are perfectly suited for residential and commercial properties because they're easy to install, durable enough to last for years without maintenance, and affordable compared to other fences.
After reading this article, if you have decided to buy a high-quality steel grating fence for your next project, we suggest you try ChinaGratings.com. We have everything you need!