Introduction:
Press-locked steel gratings are interlocking perpendicular bars that are used for various industrial applications.
It offers the same durability as welded bar grating but is more specific and more suited for superior lateral support compared with its aluminum version.
There are various types of bar gratings in the market. But the diverse availability of materials often confuses you.
While always being utilized in new and innovative ways, bar grating is most frequently seen in walkway applications.
It is an ideal option because of their strength and durability.
It doesn't wear out easily and they are highly resistant to weight. It offers premium performance but is low-maintenance.
It can withstand rugged and severe environmental conditions and will remain strong for years even after being used regularly. 
When used in construction or industrial application, it is very important to choose the right kind of gratings that will suit your specific needs.
Engineering projects, for example, require following strict government regulations on safety standards, which is why you need to be careful when manning or leading the project.
Aside from choosing a good manufacturer where you will source products, you also need to be mindful about buying the right press-locked steel gratings.
For example, it may be carrying heavy vehicle loads or being walked upon by pedestrians. Of course, you also need to consider the length and height of the pathway you are building.
Other times, the load being placed on the panels are concentrated loads. T
hat means, the area covered is smaller so you have to be mindful of the changes in the pounds per foot weight capacity.
So how do you determine which type of press-locked steel gratings you need for your project? What are the benefits, usage, and specifications required? In this article, you are going to learn some important guidance in choosing press-locked steel gratings.
Knowing a thing or two about press-locked steel gratings will help you be more aware of the selection process. 
Press-locked steel grating is integrating steel crossed on each other. It is commonly used for pathways and fences.
It comes in different sizes to fit the foundation where it shall be placed. Other uses can include civil and commercial building stair treads, trench covers, and floor platforms.
Some of them can be as long as ½ meters and are placed together to form a pattern on the floor.
The benefits of using Press-locked steel gratings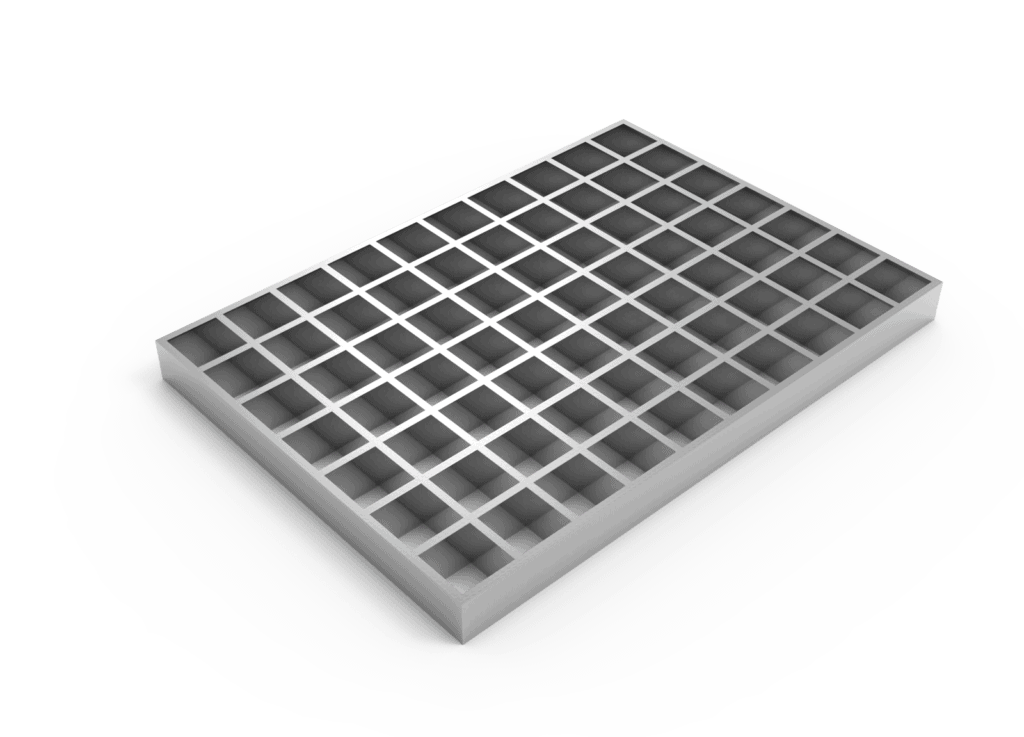 Durability – Hard pressing steel gratings on an extremely hot surface provide the durability it needs for the flooring to stay tough and long-lasting. Factories for example will need a reliable press-locked steel grating for pathways and areas where there is high foot traffic.
Ready-Made – Companies and industries don't have to customize their steel gratings. We have everything made for installation. We also customize press-locked steel gratings to suit your specific needs.
High Economical – Press-locked steel gratings are affordable options for flooring. Moreover, it is a cost-effective solution for industrial plants and rigs that are prone to contaminants such as oil, grease, and dust. It reduces maintenance and downtime due to regular cleaning.
In industrial plants and rigs where contaminants such as oil, grease, and dust, can reduce friction so it is especially important to have walking surfaces that are slip resistant and can endure harsh environments. AHS gratings are a popular choice for industrial walkway platforms. 
How to choose the right type of Press-locked steel gratings for your needs?
Material – Choosing the right type of press-locked steel gratings depends on the work you need. If you are applying it on your walkways and shelves, you must opt for press-locked steel gratings with a strong bearing capacity. 
Mesh size – Metal gratings come in a variety of sizes and choosing the right size will matter in whatever you're using it for.
Sizes available in the market can include 2 to 3 feet or even 24 feet, depending on what your construction requires.
Protection to the surface – If you are looking for strong surface protection, then you can choose black steel grating without zinc coating.
The natural look will give the surface stronger support. This type of grating is going to last for more than 40 years, amid any impact. 
Where to buy Press-locked steel gratings and how much they cost
You can buy press-locked steel grating from steel manufacturers or retailers.
Compared with other types of materials, press-locked steel gratings offer more competitive prices depending on the type, size, and materials.
Standard gratings cost around $9 to $20 per piece. Other types of gratings, which are heavier and bigger like the full gratings, heavy duty gratings, and louver gratings may cost more. 
Installation tips for Press-locked steel gratings
Always read the layout drawings and packing list before installing press-locked gratings. It helps avoid improper unpacking, which often causes field mess and reduces work efficiency. 
Place the steel gratings in their corresponding location using the code number. Considering the different measurements in your steel gratings, you must be mindful of the proper installation. 
Observe installation clearance, which usually falls within 5-10mm. When fine-tuning and for field installation, the drawing layout will be your key. 
After a successful installation, check the weld joints and clips regularly. Watch out for signs of damage and lose clips while considering the foot traffic that usually comes with it. 
Do not take the bearing bars and cross bars to lift support points when unloading the press-locked steel gratings. Avoid any mishaps by making precise measurements and calculations of areas. 
Factors you need to consider when choosing Press-locked steel gratings
Press-locked steel gratings come in a variety of sizes, shapes, and measurements, which is why you must know how to choose the different factors to look into when choosing press-locked steel gratings.
Type of steel grating – You can either choose a welded steel grating or press-locked steel gratings. By the name itself, the former is formed by pressure resistance. On the other hand, press-locked steel grating is made from hot dipping steel on a very hot surface. Both have different functions, which is why you need to differentiate both.
Almost all construction companies are looking for ways to cut costs on their budget. Fortunately, press-locked gratings offer a highly economical way to procure materials for your pathways without spending too much. 
The supplier – If you need a bulk supply of press-locked steel gratings for bigger construction projects, you would rather procure materials from a wholesaler. This way, you can also save on the cost.
Extra features – You already know that press-locked steel gratings offer a durable finish for various construction projects. But generally speaking, there are two kinds of the surface shape of the grating. One is smooth and the other is serrated. If you want a steel grating with anti-slip materials, you should look for a serrated feature. If it is not necessary, you can just choose the smooth one.
Installation Tips for Welded Steel Gratings
Always place the bearing bar point in the right direction. Point it out to the shortest distance of the desired covering space to prevent it from bending down whenever people pass on it. 
You must include banding on the grating edges to prevent unnecessary welding and broken edges. The banding will also help in transferring the burden to unloaded bearing bars assuring the grating's capacity. As a result, you will have a strong welded steel grating for passage. 
Don't face the welded steel grating upside down as you will run the risk of breaking it whenever a heavy load passes over it. Your steel grating must follow the correct position to receive the load properly. 
Always choose the right size and bearing capacity of welded steel grating for your work. Look at the manufacturer label and compare it with the drawing layout. Match the numbers and models to ensure that you are ordering the right materials.
Do not install smaller welded steel gratings on areas where heavy foot traffic or heavier loads are expected. A stronger option would be the press-locked steel gratings. Yet again, you need to install the right size and bearing capacity for the pathway to last for many years to come. 
Correct installation of welded steel gratings is important for construction success. Some contractors who are not wary of the installation process oftentimes end up in failed gratings.
This happens when gratings suddenly collapse, fold, or break whenever a heavily loaded material passes on it. Moreover, following installation guidelines will help prevent mishaps from happening.
Just follow these tips for installation and you should be fine.
Conclusion
Press-lock steel grating is a must for the construction industry and many other industrial applications.
Now that you know how to choose press-locked steel gratings for your needs, you must find a reliable manufacturer. If you have any questions, please feel free to contact us.