Introduction
Welded steel gratings are also known as open bar grating, which is made of carbon steel or stainless steel.
They are linked together through welding and are selected for their anti-corrosion, anti-slip, high endurance, and good drainage functions.
Welded steel bar grating is the most popular of all grating types owing to its strength and cost-efficient production.
It is also very easy to install because the materials are already welded together. You will see this type of grating often in industrial plants, commercial buildings, walkways, and platforms.
Some construction firms would use it to build safety barriers due to its premium endurance and durability. But you can also see it being used as a drainage cover and ventilation grates.
The use of welded steel gratins almost has no limit in the construction industry. It is also for decking support, flooring, and many more.
The best thing about welded steel gratings is that they promote cleanliness. Considering their pattern, dirt will just fall through and slip away.
That means there's no need to conduct regular maintenance. Standard panels are usually available 2 to 4 inches wide.
However, you can have them custom-made for your specific application.
While welded steel gratings have a bountiful supply, it can be challenging to find the best products.
Nowadays, manufacturers are vying for the top position. You will find many items that will only confuse you.
So, in this article, we will share with you a guide on how to choose welded steel gratings for your needs.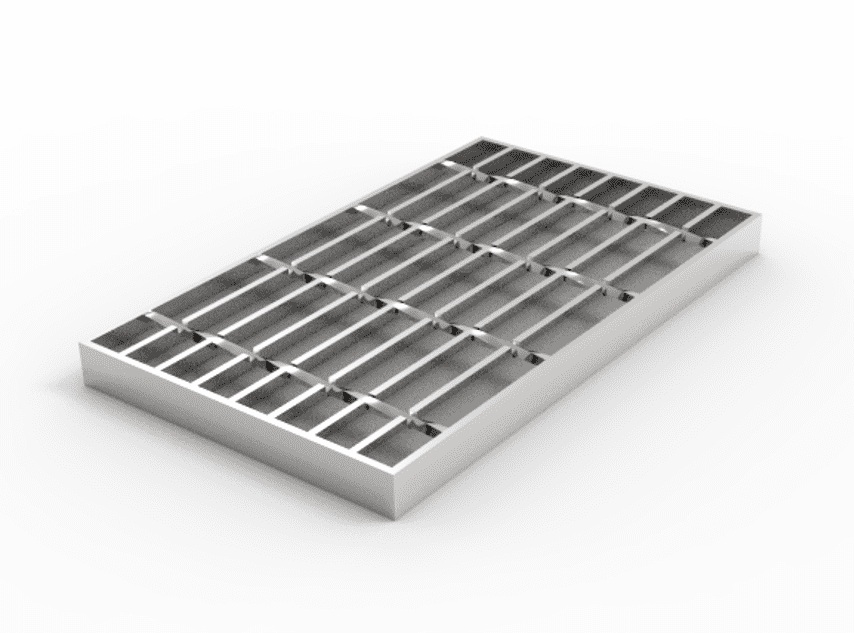 Welded steel gratings are made of steel, which is welded in a crisscross or square pattern to create a panel.
They are produced through a resistance-welding process allowing each steel to stick to the other. Compared with its press-locked counterpart, welded steel gratings have each material permanently bonded to each other.
Every panel has different thicknesses and measurements. But they are often used to cover canals and make pathways in factories and highways.
Bigger gratings are used as barricades or fences among commercial establishments.  
The benefits of using Welded steel gratings
1.       Smooth surface- Welded steel gratings often have a smooth surface, which is why it is strategically used. But there is also a serrated version – this is the anti-skid and anti-slip version you can use for pathways. 
2.       Good air, light, and water circulation – When used in pathways, whether in taller buildings or factories, it allows easy flow of light and air. That also means you don't have to clean it every day because all the contaminants and elements will just pass through it. 
3.       Firm and durable – Welded steel gratings have different bearing capacities, which you ought to know. In any case, they are made with ultimate durability to withstand heavy foot traffic. 
4.       Temporary or permanent applications – You can use welded gratings in a variety of applications. Whether you're only placing it as a temporary barricade or a permanent solution for a canal, it's guaranteed to work efficiently. 
5.       Painted or galvanized surface treatment for long service life – If your job site or area where welded steel gratings ought to be applied is prone to corrosion, we can have the materials painted or galvanized. It increases its resistance against destructive elements. 
6.       Excellent lateral stiffness – Welded steel gratings are very sturdy and strong. Since the interlocking steels are bonded together through a welding machine, it is also very convenient and easy to install.
The different types of Welded steel gratings
1.       Heavy duty 
This type of welded steel gratings is best for industrial applications, especially in areas where heavy foot traffic is expected.
Heavy duty welded steel is thicker, bigger, and has a higher bearing capacity. It can withstand heavy traffic and impact without bending or breaking.
2.       Stainless Steel
Made of stainless steel, this type of welded steel gratings is best for locations that are prone to corrosion.
It's also ideal for laboratories considering the stainless steel's resistance to various contaminants and other destructive elements.
3.       Painted steel
In some cases, welded steel gratings are coated and painted to add more protection against rust and corrosion.
These are preferred options for industrial applications. The surface can also be serrated so panels can have the anti-slid capacity, making them best for pathways and upper floor walkways.
How to choose the right type of Welded steel gratings for your needs?
Choosing the right type of welded steel gratings will ensure precision in the result.
Of course, you need to be cautious in choosing the right type of material for industrial and construction needs.
The following are some tips on how to choose the right type of grating.
Think about the type of work you will need the welded steel gratings for. Pathways with heavy foot traffic require highly durable materials.
Choose a coated grating if your location is in danger of corrosive properties. Stainless steel, for example, is great for labs and factories where there is a risk of moisture and contamination.
Select a manufacturer with a high trust rating. Don't just trust any company that approaches you for materials. The right manufacturer must be able to deliver materials with great quality on time.
Where to buy Welded steel gratings and how much do they cost?
You can buy welded steel gratings from local and international distributors.
But if you want to save on the cost, you can go directly from manufacturers and order wholesale steel gratings. Fortunately, welded steel gratings have competitive pricing.
Moreover, SUNJ grating Limited provides high-quality welded steel gratings and other metals in China.
They also offer various other products for construction such as handrails, stair treads, and more.
Installation tips for Welded steel gratings
Measure the region where the welded steel grating will be introduced.
Slice the grating to measure utilizing a power saw or processor. Make sure you clean the region where the grating will be introduced.
Use machines and equipment to put the steel grating together. Do not place it upside down to avoid accidents and bending.
Grind down sharp edges and uneven surfaces. You can paint or coat it to add more protection against rust and corrosion.
For pathways, add other features of handrails. Examine the establishments to guarantee that it is completely safe.
Fix damaged or broken gratings on a case-by-case basis.
Factors you need to consider when choosing Welded steel gratings
Materials – Welded steel gratings are mainly built with steel but you may need to consider whether you need it to be stainless or galvanized. Both of these materials have different durability levels and particular applications.
Type – You must choose the correct type of welded steel gratings for your needs. Buying the wrong will only cause mishaps in the future and budget damage. For example, if you choose a lightweight welded steel grating with low bearing capacity and use it for pathways, it will easily bend after a couple of days.
Size – Welded steel gratings come in different sizes. A panel can be around 2 to 3 feet wide but if you need something bigger, you can request custom gratings.
Aesthetics – Gratings can either be coated or not. If you want a clean, finished look of welded steel gratins for your business, you can have it coated with your desired color. Remember, for steels, always follow the principle that "less is more." Minimalist colors like gray or black can do well, especially for pathways.
Cost – The price for each grating panel largely matters if you are on a budget. That is why you must seek a company that can offer you competitive pricing, especially if you are buying wholesale.
Delivery – Do you need your gratings urgently? Find a manufacturer with no history of delays. Time is essential for industrial and construction applications because of the timeline that contractors have to follow.
Installation tips for Welded steel gratings
The following are some tips for installing welded steel grating.
Take area measurement of the location where gratings ought to be installed. Arrange the size of your grating according to their location. If somehow, they exceed the limit of your area, you can cut the grating to size using a steel grinder.
Clean the area where you are going to install the grating. Get rid of dust and other elements that will hinder bonding during installation.
Place the grating in its location. Weld the grating to the support structure so it bonds with it. This way, the entire structure will be a lot stronger
Paint the whole structure with either gray or black, depending on what you're trying to achieve. It also provides added protection against corrosive properties.
Install safety devices for pathways such as handrails and stair treads if necessary.
Conclusion 
There you go! We hope you enjoy our guidelines on how to choose welded steel gratings for your needs.
Whether you need a coated grating or not, remember to always choose the best manufacturer of steels and metals for your needs.
SUNJ Grating Limited is here to help make the process hassle-free for you. Do you have many more questions?
Don't hesitate to give us a call and we will be ultimately happy to answer your queries.