With so many options available, how do you know which company offers your investment the best quality, service, and value? The stakes are high—making the wrong choice could result in subpar products, delayed projects, and unexpected costs.
Are you feeling Overwhelmed by the Choices and Lack of Information? It's easy to feel stuck, unsure of how to proceed, and anxious about making an uninformed decision that you might regret later.
This comprehensive guide will walk you through Australia's top 10 Tubular Fencing Manufacturers. We've evaluated them based on key factors such as product quality, customer reviews, location, etc. Whether you're a distributor, a contractor, or a homeowner, this guide is designed to provide you with all the information you need to make an informed decision.
By the end of this guide, you'll clearly understand what each manufacturer offers, helping you choose the one that best suits your needs. Feel free to continue reading and discover Australia's best options in tubular fencing.
1. Fencecraft
Website: Fencecraft – Manufacturer of tubular fencing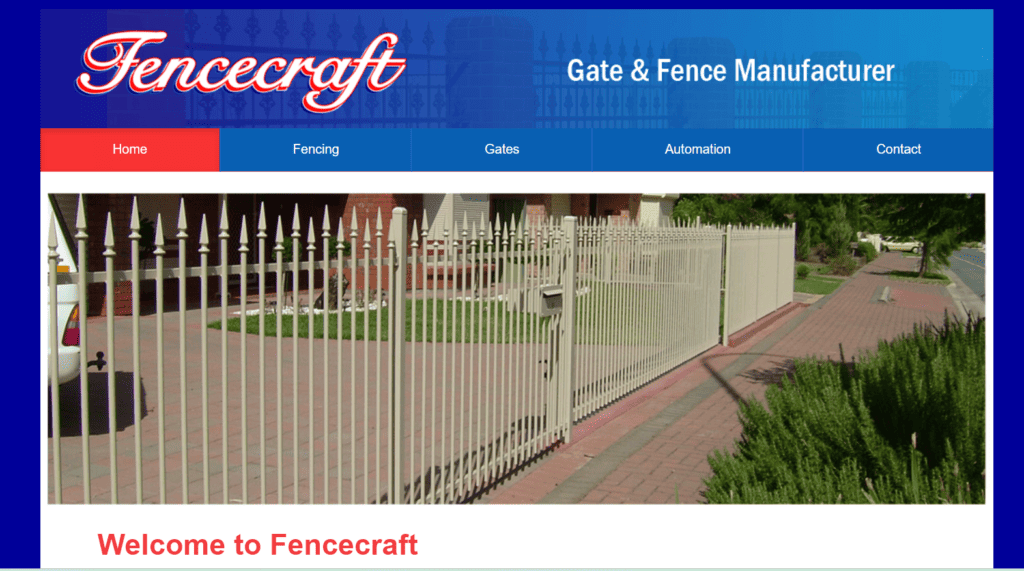 Country and City: Australia, Salisbury Plain, South Australia
Established Date: 1996
Introduction
Fencecraft is a reputable South Australian manufacturer of tubular fencing, established in 1996. With a commitment to producing top-notch quality fencing, the company utilizes predominantly Australian-made materials and boasts a team of highly skilled staff. Their products are tailored to individual requirements, with custom-designed fencing being a hallmark of their offerings.
Over the years, Fencecraft has consistently catered to several high-profile companies in Adelaide, underscoring their capability to deliver enduring products. Their seasoned sales team, with vast experience, is adept at offering solutions for even the most challenging fencing needs.
Additionally, Fencecraft incorporates Powdercraft, a specialized powder coating firm, ensuring the aesthetic appeal of their products. Their extensive product range includes front fencing, pool fencing, glass fencing, industrial fencing, gate automation, balustrades, and sliding gates, among others.
Key Products
Tubular Front Fencing
Tubular Pool Fencing
Tubular Industrial Fencing
Review
Fencecraft has garnered a reputation for producing top-quality fencing products. They have consistently manufactured for several high-profile companies across Adelaide, highlighting their ability to create durable and long-lasting effects. While I couldn't find specific customer reviews, their long-standing presence in the industry speaks volumes about their reliability and quality.
2. Protective Fencing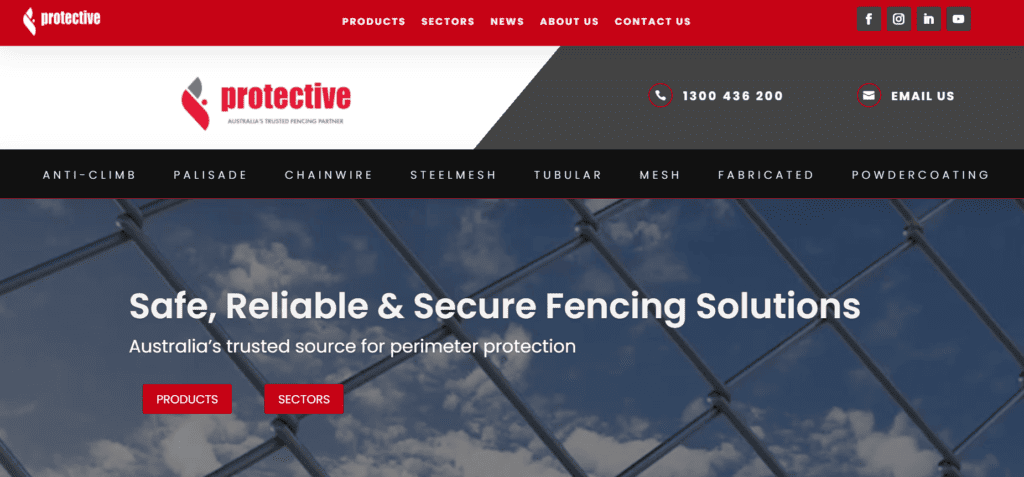 Country and City: Australia, West Gosford, New South Wales
Established Date: 1975
Introduction
Protective Fencing is a leading Australian company specializing in high-quality fencing solutions. As an Australian-owned and operated family business, they focus on supplying a diverse range of fencing products, including Chainwire, Palisade, Anti-climb, Steel Mesh, and more. Their commitment to excellence is evident in their product quality, with many fencing installers praising their reliability, ease of installation, and durability.
The company takes pride in manufacturing products that not only meet specifications but also offer cost savings. With a reputation for excellent customer service, timely deliveries, and knowledgeable staff, Protective Fencing has garnered positive testimonials from satisfied clients.
Their offerings cater to various sectors, including aviation, commercial, correctional facilities, education, health, mining, and sports courts, among others. Their dedication to quality and service has positioned them as a trusted source for perimeter protection in Australia.
Key Products
PARKWAY Steelmesh Fence
358 Anti-Climb Mesh
Chain Link Fabric Fencing
Custom Mesh in Core Ten Powder Coat Colour
Review
Protective Fencing has a strong reputation for delivering high-quality, cost-effective fencing solutions. They have been at the forefront of innovation, with products like their PARKWAY Steelmesh Fence explicitly designed for cycle paths and walkways, compliant with Australian road standards. Their focus on customer needs and dedication to quality has earned them a loyal customer base and positive reviews in the industry.
3. Stratco Australia
Website: Stratco Australia Official Website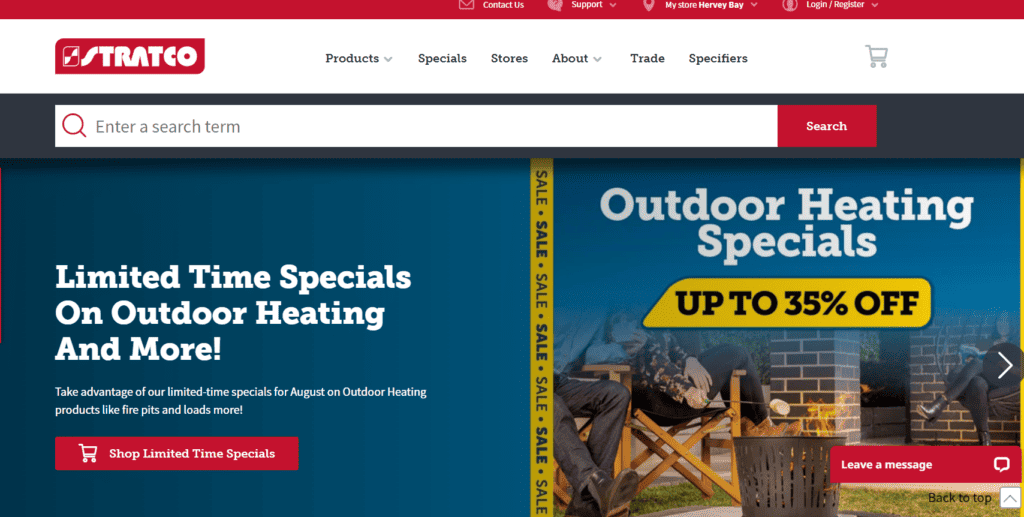 Country and City: Australia, Gepps Cross, South Australia
Established Date: 1948
Introduction
Stratco is a prominent Australian company with over 70 years of experience in the building and home improvement sector. As one of the nation's largest producers and marketers of top-tier building products, Stratco offers a diverse range of solutions, including patios, verandahs, pergolas, roofing, guttering, fencing, sheds, garages, steel framing, and more.
Their innovative Handi-Pod™ has revolutionized the garden shed market with its modern design and easy DIY installation. Additionally, they've introduced stylish and durable fencing options like the Premium Perforated Fencing and Barr Fencing. Stratco's commitment to quality and innovation is evident in their vast product range and the positive feedback from satisfied customers. Headquartered in Gepps Cross, South Australia, Stratco has expanded its presence with a network of stores across the country.
Key Products
Stratco Good Neighbour Fence
Clickfast Fascia and Gutter System
Outback® range of Verandahs, Patios, Carports, and Pergolas
Review
Stratco Australia has been a leader in the industry, known for its high-quality products and customer-centric approach. They have received several industry and design awards, including the coveted Classic Australian Design Award for their Clickfast Fascia and Gutter system. Their wide range of products and focus on innovation have made them a go-to choice for professionals and homeowners alike.
4. SunJ Grating
Website: SunJ Grating Official Website
Country and City: Jiangsu, China
Established Date: 2010
Introduction
SUNJ Grating Limited, prominently featured on chinagratings.com, stands as a global frontrunner in the steel grating industry, boasting over 15 years of expertise. Situated in Wuxi, Jiangsu, China, they offer an extensive array of steel gratings, encompassing galvanized steel grating, stainless steel grating, and more. Their production techniques span welding, press-locking, swage-locking, and riveting.
Notably, SUNJ Grating also delves into the realm of fencing, providing solutions that are not only functional but also aesthetically pleasing. Their commitment to delivering top-tier quality, resilience, and meticulous design in their products has solidified their reputation in the steel grating and fencing sectors. Their dedication to client satisfaction further cements their position as a trusted supplier in the global market.
Key Products
Custom Tubular Fencing
Security Tubular Fencing
Decorative Tubular Fencing
Review
SunJ Grating is highly praised for its commitment to quality and customer service. The company's products are known for durability, aesthetic appeal, and functionality. SunJ Grating has become a preferred choice for residential and commercial fencing needs with a wide range of customizable options. Their attention to detail and focus on customer satisfaction have earned them a loyal customer base and positive reviews in the industry.
5. Otter Fencing
Country and City: Australia, Dandenong South, Victoria
Established Date: 1959
Introduction
Otter Fencing has been a stalwart in the Australian fencing industry since its establishment in 1959. John Otter founded the company initially as a fencing sub-contractor for Housing Commission estates in Melbourne and Regional Victoria.
Over the years, Otter Fencing has evolved into a fully-equipped manufacturing business specializing in Chain-Link Fabric, Tubular Panel, and Welded Mesh fencing. With more than 60 years of experience, the company has built its reputation on quality and reliability.
They offer a wide range of products for various applications, such as security fencing, storage cages, tennis courts, sporting grounds, and more. Otter Fencing is a one-stop shop for all fencing needs, providing everything from galvanized steel pipe and posts to custom-built gates.
Key Products
Chain-Link Fabric Fencing
Tubular Panel Fencing
Welded Mesh Fencing
Custom Built Gates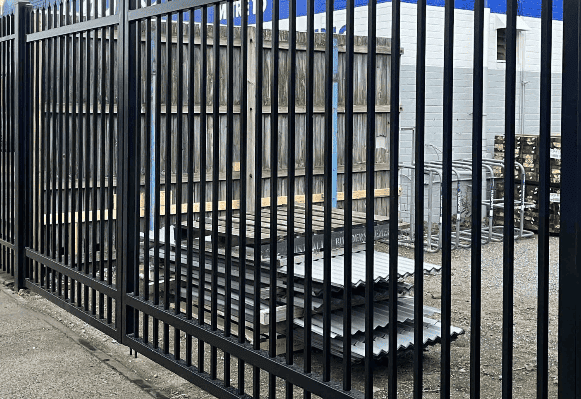 Review
Otter Fencing is well-respected within the industry for its commitment to quality and customer service. They have been manufacturing, supplying, and installing fencing and gates for over 60 years, making them one of the field's most experienced and reliable companies. Their focus on Australian Standards compliance and using Australian-made materials like Onesteel® Wire and Bekaert Wire further solidifies their quality reputation.
6. Fencing Manufacturers
Website: Fencing Manufacturer's Official Website
Country and City: Australia, Newcastle, Gosford, and Sydney North
Established Date: Over 30 years in business
Introduction
Fencing Manufacturers is a distinguished Australian company, specializing in the design, production, and installation of fencing products. With a strong presence in regions like Sydney North, Central Coast, and Newcastle, they have been a trusted name in the industry for over 30 years.
Their product range is vast, encompassing aluminium pool fencing, aluminium balustrades, glass pool fencing, glass balustrades, stainless steel fencing, aluminium privacy screens, slats, louvres, and both manual and automatic gates.
They are particularly renowned for their tubular and glass balustrades. As a family-owned business, Fencing Manufacturers prides itself on its commitment to quality, innovation, and customer satisfaction. Their products are not only functional but are also designed to enhance the aesthetic appeal of any property. Their reputation is further bolstered by positive testimonials from satisfied clients.
Key Products
Aluminium Pool Fencing
Aluminium Balustrades
Glass Pool Fencing
Glass Balustrade
Stainless Steel Fencing
Review
Fencing Manufacturers has built a strong reputation for quality and customer satisfaction. Their wide range of products and customization options make them versatile for various fencing needs. They are particularly noted for their aluminum and glass fencing solutions, which are aesthetically pleasing and highly functional. Their long-standing presence in the industry and focus on customer satisfaction have earned them a loyal customer base.
7. Summit Fencing
Website: Summit Fencing Official Website
Country and City: Australia, Emu Plains, New South Wales
Established Date: 1999
Introduction
Established in 1999, Summit Fencing has become a trusted supplier and installer of commercial fencing in Australia. Its headquarters in Emu Plains, New South Wales, serves various sectors, including Local Government, Education, Building, and Civil Construction industries. Summit Fencing is known for its comprehensive range of products, from Chainwire Fencing and gates to Tubular Fencing and gates and even custom fencing solutions. They are committed to delivering competitively priced, high-quality products and have built a reputation as an industry-leading contractor.
Key Products
Chainwire Fencing & Gates
Tubular Fencing & Gates
Screening
Gate Automation
Carpark Storage Cages
Sports Fencing
Weld Mesh Fencing
Review
Summit Fencing has been lauded for its solutions-driven approach and high-quality standard of work. They have completed various projects for Hansen Yuncken, Richard Crookes Constructions, and many other reputable companies. Their wide range of products and ability to ramp up resources as per project requirements make them a reliable choice for any fencing needs.
8. K-Line Fencing Group
Website: K-Line Fencing Group Official Website
Country and City: Australia, High Wycombe, Western Australia
Established Date: 1975
Introduction
K-Line Fencing Group is a leading provider of industrial security fencing solutions in Perth and Western Australia. With a focus on safeguarding commercial properties, they offer expert advice and professional installation services. The company specializes in comprehensive fencing solutions for industrial properties and schools, leveraging over 100 years of combined experience to ensure top-notch protection for both property and personnel.
Their commitment to quality is evident in their durable fencing products and precise installation techniques. K-Line's dedication to customer service excellence is also reflected in their hassle-free client experiences. The company has successfully undertaken numerous unique fencing projects, enhancing the security of schools and industrial properties across the region.
Key Products
Garrison Fencing
Chain Wire Fencing
Steel Fencing
Tubular Fencing
Chain Mesh Fencing
Automatic Gates
Timber Barriers
Plastic Bollards
Safety Barriers
Review
K-Line Fencing Group has built a strong reputation for its expertise in security fencing. They have completed notable projects for Burswood Crown Casino, the City of Cockburn Botany Park, and Perth Airport, among others. Their focus on consultation, planning, and project management ensures that each project is completed on time and budget. The company is well-regarded for its high quality and customer service standards, making it a reliable choice for any fencing needs.
9. ARC Fences
Website: ARC Fences Official Website
Country and City: Australia, Tamworth, New South Wales
Established Date: 1920
Introduction
ARC Fences, an Australian-based company, has been dedicated to manufacturing quality fencing since 1920. Catering to the diverse needs of Australians, they specialize in supplying and crafting top-notch pool, home, and garden fencing. Their extensive product range includes residential fences designed for homes and gardens, security fences for enhanced protection, and commercial fences suitable for various establishments from schools to manufacturing facilities.
ARC Fences takes pride in its Australian roots and offers a variety of materials for their products, including steel, wire, and aluminium. Each material is available in different styles, sizes, and finishes, ensuring a perfect fit for every requirement. Their commitment to quality is further emphasized by their powder-coating service for all metal products.
Key Products
Residential Fences
Security Fences
Commercial Fences
Powdercoated Metal Products
Review
ARC Fences has a long-standing reputation for quality and reliability. With over a century of experience, they have been a trusted choice for Australians looking for residential, commercial, and security fencing solutions. Their products undergo stringent tests in a NATA-approved laboratory to ensure compliance with Australian standards. The company has consistently delivered high-quality products that add value to homes and provide peace of mind for years.
10. Reliance Fencing
Website: Reliance Fencing Official Website
Country and City: Australia, Adelaide, South Australia
Established Date: Date not specified
Introduction
Reliance Fencing, based in Adelaide, is renowned for its expertise in crafting fencing tailored to individual needs. They specialize in the manufacture, supply, and installation of various types of fencing, including tubular, aluminium slat, and glass fencing.
Their services extend to all areas of Adelaide, South Australia. In addition to their primary fencing solutions, they also excel in providing automatic sliding gates. Whether you're in need of a pool fence, a decorative fence for your residence, or any other fencing requirement, Reliance Fencing is equipped to cater to your needs. Their commitment to quality and customer satisfaction is evident, and they offer free measures and quotes to prospective clients.
Key Products
Tubular Fencing
Aluminium Slat Fencing
Glass Fencing
Automatic Sliding Gates
Review
Reliance Fencing has received high praise for its quality and customer service. They have been particularly commended for their design flexibility and punctuality. Customers have highlighted their ability to handle late design changes smoothly and deliver projects on schedule. Their products are well-received and have a strong reputation for reliability and excellence in Adelaide.
How Many Types of Tubular Fencing Are There?
Tubular fencing comes in various styles and materials, each with unique characteristics and applications. The most common types include steel, aluminum, and wrought iron tubular fences. Steel is known for its strength and durability, ideal for high-security areas like industrial sites.
On the other hand, aluminum is lightweight and corrosion-resistant and is often used for pool enclosures and residential boundaries. Wrought iron offers a more decorative option, perfect for adding aesthetic value to gardens and estates.
Each type can be customized further with different finishes, colors, and design elements like spears or scrolls, catering to functional and aesthetic needs. Whether you're looking to secure a commercial property or enhance your home's curb appeal, a tubular fencing option suits your requirements.
How to Find a Good Tubular Fencing Manufacturer in Australia?
When looking for a reliable tubular fencing manufacturer in Australia, consider the company's experience, product range, and customer reviews. An established company with a quality and reliability track record is often a safer bet. Check if they offer the specific type of tubular fencing you need: steel, aluminum, or wrought iron.
Customer reviews and testimonials can provide valuable insights into the company's reputation for quality and customer service. Lastly, inquire about warranties and after-sales support to ensure you make a well-informed decision.
Who is the Largest Tubular Fencing Manufacturer in Australia?
Australia's largest tubular fencing manufacturer has not been definitively established due to varying metrics like production volume, revenue, or geographic reach. However, companies like Stratco and Protective Fencing are among the industry leaders, known for their extensive product range and nationwide presence. Both have been in the business for decades and offer a variety of fencing solutions, making them go-to choices for many Australians seeking quality and reliability.
Conclusion
We've taken you on a comprehensive journey through Australia's top 10 Tubular Fencing Manufacturers, each with unique offerings and strengths. From the long-standing reliability of companies like Stratco and Protective Fencing to specialized providers like SunJ Grating, there's a manufacturer to meet every need and preference. We've also touched on the different types of tubular fencing available, key factors to consider when choosing a manufacturer, and who stands out in size and reach. As you decide, we highly recommend viewing these top-tier manufacturers for their proven track record in quality, innovation, and customer satisfaction. Thank you for reading, and here's to making an informed choice for your next fencing project!