Platform floor grating may be required for various platforms, sometimes as walkways and sometimes as a platform. Such a platform is a part of a structure and holds a lot of equipment and other things.
Platform gratings are widely popular in industries and factories where heavy equipment is present, and to handle their load, the platforms must also bear sufficient strength. However, many offshore sectors like oil and natural gas and shipbuilding that spend most of their time offshore require platforms.
Oil extraction and shipbuilding are challenging processes and require drilling and heavy-duty equipment. Also, since they are in the middle of the sea, they need a safe platform in every aspect. It shouldn't slip, it shouldn't wear out, and it must be durable. It must also be tensile enough to withstand all kinds of weather conditions.
The role of offshore platform floor gratings tends to be significant here because it is specifically designed to cater to the purpose of being used as an offshore flooring material.
Advantages of offshore platform grating
Many reasons make the idea of choosing offshore platform grating a better one for shipbuilding and oil extraction companies; some of the benefits that could be enjoyed by way of such platforms are discussed below:
Offers Increased Safety
Safety is always a very crucial concern for factories. An owner of a business always has to take care of their employees and their lives, especially when it comes to working in a scenario like oil extraction or shipbuilding.
Offshore platform grating is a relatively very safe and steady option to be chosen. It is strong and doesn't lose its place. Moreover, materials like carbon steel and stainless steel are used in its manufacturing. It is also a durable material that doesn't wear out in the water or in rough sea conditions. Hence, when choosing offshore platform grating, business owners can be assured of the safety of their staff, as such platforms are even slip-resistant.
Suitable for long-term use
Investing in a platform is always expensive, so when one invests in a working platform, especially when it is to be used offshore, it must be durable enough that it lasts for a longer term. So, when it is about an offshore platform grating, one thing is for sure it will last quite for a longer time.
It is not prone to the worst weather conditions; no matter if it rains, snows or oil spills over the surface or heavy equipment and drilling are conducted over it, the platform has a longer life. It is in the manufacturing of such platforms that they are meant to last much longer.
Requires almost no maintenance
Cleaning and maintaining an offshore platform grating is straightforward. It requires less time and almost no expense. You can easily wash it away and get rid of the dust; that is the only thing this platform needs. Hence, it is a suitable choice for industries with these platforms installed offshore because they don't have to focus on their maintenance unnecessarily.
Where is offshore platform grating used?
Offshore platform grating, as the name suggests, is used in offshore operations industries. When it comes to the shipbuilding industry and marine industry, the use of such gratings is quite common because of the exceptional properties they possess.
On the other hand, oil and natural gas industries also have their extraction carried out offshore in most cases. Hence, these industries commonly implement offshore gratings as a working platform with strength-oriented support to cater to their equipment and operations.
Types of offshore gratings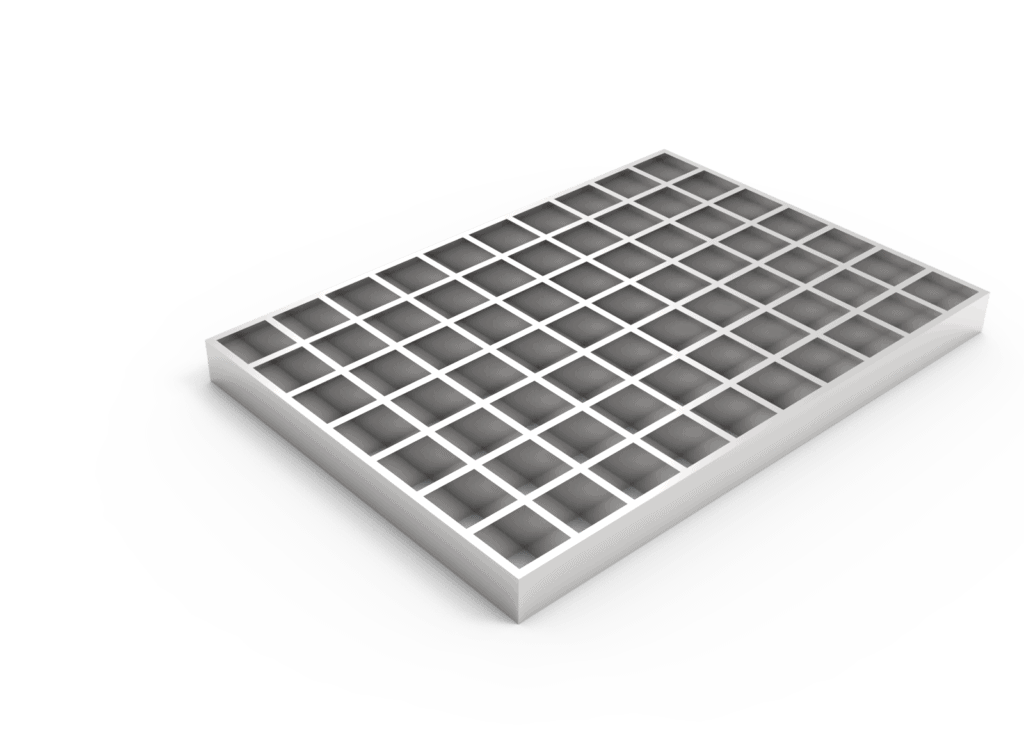 Offshore gratings may differ in types in various ways; some of these common types of differences between them are discussed below:
Material, finishing, and dimensions
Offshore platform gratings are widely available in two different materials; you can either opt for stainless steel or low carbon steel when having your platforms manufactured as two of these kinds are most suitable for offshore purposes.
Three kinds of finishing options are also suitable for being treated in the middle of the sea, comprising painted electroplated and galvanized. However, the other aspect of having these gratings is the size of the gratings, the space between the bars, and their thickness.
The height of the bearing bar may vary in the range of 25mm, 30mm, 35mm, and so on until 60mm, with a difference of 5 mm in each size. However, the thickness must be between 3,4, and 5 mm.
The layout of the offshore grating platform
Another aspect in which the offshore grating platform differs is the layout and shape. Usually, there are three options to choose from when it comes to such gratings. You can opt for a rectangular offshore platform grating with a frame or without a frame on the edge, and another option is to have a circular platform.
Features of the offshore grating platform
The common features that have made offshore grating platforms the most chosen option for flooring purposes may include the following:
These are light in weight but have a very high bearing ability and hence handle the weight of equipment very well.
Easy to clean and maintain, and in case any component breaks accidentally, that particular portion can easily be replaced at a low cost.
Extensive lifespan may be used for years without wear and tear.
Offers resistance against strong winds and storms and is capable of dealing with rough sea conditions.
Offer a lot of safety for the staff and are slip-resistant, keeping in view the problems faced by the offshore team.
Conclusion
Offshore grating platforms are the best option when choosing to floor for such industries as they offer ease in every aspect. They can handle the weight, and the pressure of processes carried out while ensuring the safety of the staff working over them and walking over them.
These platforms may easily be customized depending on the material, size and layout needed, followed by the finishing of the grating. Choosing these platforms could be a one-stop solution and a lifetime investment in the floorings of the offshore industries.